Read the Latest Articles from Vlamis
Get our latest thoughts on the world of analytics – everything from architecture and integration to data visualization and machine learning.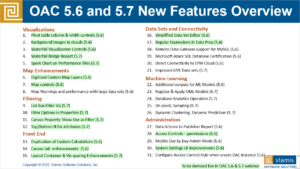 I spent the weekend preparing slides and demos for my webinar titled "What's New in Oracle Analytics 5.6 and 5.7" to be presented on Aug 5 at 12pm US CDT. Just like past webinars in
Want to Receive Updates from Vlamis?
Sign up for our newsletter.