Custom Training Tailored to Your Company
If you need formal training, Vlamis has you covered – from ETL using Oracle Data Integrator to visual analytics and dashboard design using Oracle Analytics. Courses typically run for 2-5 days and follow a traditional format of lecture, live demo, and hands-on exercises with step-by-step instructions. We encourage active participation and include interactive exercises so that attendees learn by doing. Whether you need training for 5 people or 500, we offer in-person, on-site classes at your location, as well as web-based remote training.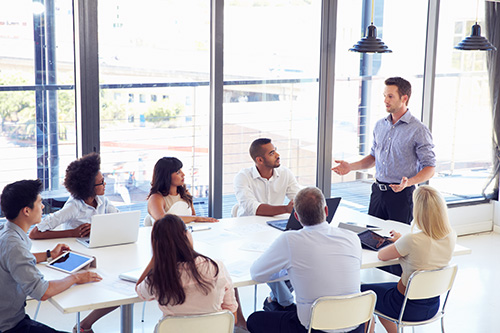 Introductory and End-User Courses
Introduction to Oracle Analytics
This course teaches attendees about the incredibly broad range of capabilities in Oracle Analytics, from data exploration using the latest visual analytic tools to machine learning and from data modeling to classic dashboard design. You'll see business use cases and learn when to use which part of Oracle Analytics. You'll learn about self-service data connections and uploads, creating and modifying your own data mashups, blending your data with archived data sources, and enriching data sets with automated intelligence. You'll see how to leverage maps and location-based analytics at the push of a button and see how easy it is to deploy your work to rich mobile applications. Expect an information-packed session where you can get your questions answered and get guidance from real-world experts who have trained thousands of users in enterprise analytics implementations.
Target audience:
BI Managers and administrators, data analysts, content creators, and general users.
Data Exploration and Discovery with Oracle Analytics
This two-day course covers a wealth of material in the latest discipline of visual analytics. You'll learn how to speed-read data sets, systematically reveal correlations, and develop evidence-based insights in a fraction of the time spent using traditional analytics tools. You'll learn how to connect to a wide variety of on-premises and cloud-based data sources and how to enrich your internal data sets through mashups with easily available external data resources. You'll see how predictive analytics can reveal not only past patterns, but future likelihoods. You will learn all of this through hands-on exercises and self-guided discovery with live data and the latest in visual analytics software from Oracle. Our expert instructors have years of practical experience working with America's largest and most successful organizations.
Target audience:
Data analysts, content creators, and general users
Oracle Analytics – Classic Answers and Dashboards
This course introduces the classic "front end" analytics environment of the OBIEE and Oracle Analytics (both OAC and OAS) environments accessible from the "Classic home page", known commonly as "Answers and Dashboards".  
In this course, students will learn about creating analyses and dashboards in OBIEE/OA through hands-on activities across a wide variety of topics.  Vlamis training goes beyond "what to click", and includes why you would build a report, graph, or dashboard in a certain way, drawing from deep knowledge on data visualization best practices as presented in the Oracle Press book, Data Visualization for Oracle Business intelligence 11g. You'll learn from some of the world's leading experts and trainers in Oracle Analytics and Business Intelligence.
Target audience:
Data analysts, report writers, and dashboard creators
Oracle Analytics Publisher and Oracle BI Publisher
Oracle Analytics Publisher (formerly BI Publisher) is Oracle's tool for creating tightly formatted outputs of BI data, such as invoices, purchase orders, W2s, insurance forms, transcripts, and any other type of output that needs to be formatted in a very specific, controlled fashion.
In this course, students will learn about Oracle Analytics Publisher through hands-on activities across topics such as:
       

Creating data models

       

Creating reports

       

MS Word templates

       

MS Excel templates

       

Custom formulas

       

Creating subtemplates

       

Scheduling reports to run automatically

       

Navigating (linking) between reports
Target audience:
       

Data analysts and report writers

       

Anyone who needs to produce tightly formatted reports
Oracle Analytics and OBIEE Repository and Security (BI Admin tool)
This course explores the development of the Oracle Metadata Repository (RPD) using the Oracle BI Administration tool. The metadata repository is a "single-source of truth" data model that federates data from multiple data sources and secures the data against unauthorized access. The repository also defines dimensional structures and logical subject areas to present the data to report developers and report consumers using easily understood, organization-specific vocabulary and terminology.
In this classroom-style presentation, students are introduced to the various components of the Oracle Analytics architecture, then create an Oracle Analytics repository, starting with importing data sources into the Physical Layer, continuing with the transformation of that data into a Business Model, and finally creating the user-visible Presentation Layer. Students will learn techniques such as creating dimensions and hierarchies, creating time-series data (such as month-ago or year-to-date), using aggregate tables and repository variables, and modeling security.
You'll also learn how to create variables, custom calculations, level-based aggregations, and other advanced data modeling techniques.
Target audience:
DBAs and data architects who will be participating in the design and deployment of data models for an Oracle Analytics or OBIEE system.  

Developers who will be responsible for building the Oracle Analytics or OBIEE metadata repository.
Oracle Data Integrator
This course introduces participants to Oracle's ELT (Extract, Load, Transform) tool known as Oracle Data Integrator. ODI is a powerful data manipulation tool appropriate for organizations of all sizes and types. It is used to programmatically pull data from primary sources and load it into other locations and formats such as a data warehouse (autonomous or regular), cloud data storage, or a defined data store. You'll learn all about writing workflows, performing transformations, creating variables and triggers, and automating database procedures.
In this course, students will learn about Oracle Data Integrator through hands-on activities.
Target audience:
       

DBAs and data architects.  

       

Developers looking to use ODI instead of custom-built data transformation scripts
Let's discuss your options
Contact us to discuss next steps.