Expertise Brought Straight to You
Our expert consultants are in-demand speakers at major Oracle conferences such as Oracle OpenWorld, Collaborate, and ODTUG Kscope. You will find us presenting in-person all across the country as well as online in virtual conferences and webcasts.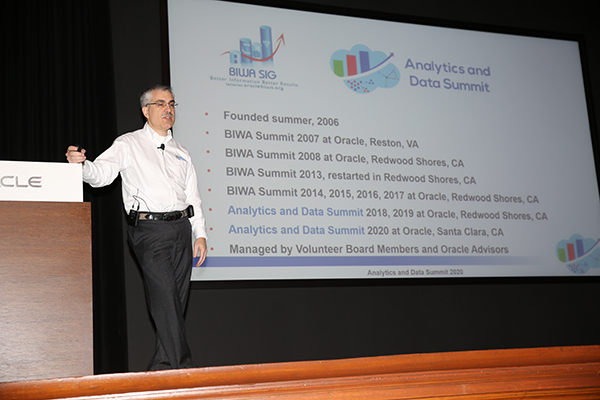 You must have an Adobe Acrobat compatible reader installed to view our presentations. If you would like to have a copy of a paper or presentation we have given that has not yet been posted, please send an e-mail to papers@vlamis.com with the name of the conference and the year you need. Links to presentations will open in a new window.  For presentations from 2022, see Presentations – 2022.
Upgrade OBIEE to Oracle Analytics
January 25, 2023 1:00 p.m. – 2:00 p.m. Central Time
Analytics and Data Summit 2023
March 14-16, 2023 Website
Advancing Analytics at Rosendin (March 14, 2023)
University Enrollment Analytics with OAC on ADW (March 14, 2023)
Data Visualization Using Oracle Analytics (March 15, 2023)
2023 AIR Forum - Cleveland, OH
May 30-June 2, 2023 Website
Dreams Do Become Reality: An Institution's Decision-Support Journey (May 31, 2023)
Let's discuss your options
Contact us to discuss next steps.