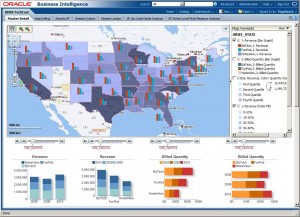 Come join a special collaborative presentation by Vlamis Software Solutions, NAVTEQ, and Oracle Corporation for the next BIWA TechCast September 8 at 11am Central US time: Information Visualization Using Maps in Oracle Business Intelligence 11g.  This TechCast will be one to not miss, as we will be showing off the new map views in OBIEE 11g and discussing how map views are necessary for visualizing spatial-related data.  The presentation is a mix of a "why you should care" in Powerpoint, and a live demonstration of the features using OBIEE 11g.  We also discuss how to add NAVTEQ spatial data to your BI dashboard to go beyond what is included with OBIEE.  This will be one of the first public webcasts on Oracle Business Intelligence 11g focusing on a specific feature.This TechCast brings together a unique combination of the following presenters:
Dan Vlamis, Vlamis Software Solutions
Abhinav Agarwal, Oracle BI Product Management
We just completed our rehearsal for the TechCast and it will be a great show.  The case for including maps in your BI dashboards is extremely compelling.  See our landing page for how to register and for all of the details.  We hope to see you there!