Client Summary
Rosendin Electric (https://www.rosendin.com/) is an employee-owned electrical contractor based in San Jose, California. Founded in 1919, Rosendin provides electrical and communications installations. With over 6,000 employees and annual revenue approaching $2 billion, Rosendin counts on high-performance analytics and dashboards to drive executive insights.
The Project
The implementation of Oracle Analytics Cloud (OAC) at Rosendin Electric did not get off to an auspicious start. They had recently begun migrating from Oracle Business Intelligence (OBIEE) 11.1.1.7 to OAC and had high expectations for their new system but were finding it difficult to get timely, quality results from it. At Oracle's suggestion, they reached out to Vlamis for assistance. We were able to identify root problems with the way OAC was being implemented (rather than it being problems with the software itself). By taking a different approach to the implementation and capitalizing on OAC's Data Visualization interface, we were able to demonstrate the true value of OAC to them.
For this project, we began by conducting an overview of current Rosendin systems, data structures, reports, strategic goals and objectives of the system, as well as overall priorities. We also provided mentoring for Rosendin staff members. We improved report and dashboard performance, giving them greater confidence in OAC. With that groundwork laid, we then completed the migration process.
"We found Vlamis through Oracle when we wanted to take our OBIEE and Oracle Analytics Cloud dashboards to the next level. Vlamis was able to quickly improve performance and redesign some of our dashboards. They explain what they are doing and why. We know we can count on them to improve our analytic capabilities and propel our analytics systems into the future."– Matt Lamb, CIO, Rosendin Electric
The migration included the following tasks:
Analyzing the dashboard pages to determine which data must be migrated
Migrating data stored on Rosendin's on-premise Oracle database to Rosendin's Autonomous Data Warehouse (ADW server) on Oracle's cloud
Rewriting necessary Extract, Transform and Load (ETL) routines in Rosendin's Oracle Data Integrator (ODI) 12g that will periodically load data into the ADW
Modifying Rosendin's existing OAC RPD file to add a new subject area for the billing data
Coding the necessary analyses and dashboards in OAC to replicate the functionality in OAC using classic dashboards
Migrating the system from Development to Test and Production instances
After the initial migration, Rosendin needed some additional dashboards that related to their install rate for conduit. We were able to design and implement a unified install rate dashboard enabling Rosendin to compare and analyze all their projects across multiple attributes of these projects.
Benefits
With the completion of this project, Vlamis provided the following benefits to Rosendin:
Enabled Rosendin to retire outdated technology and move to a cloud-based analytic platform
Improved overall performance of the system using dimension tables and remodeling of subject areas
Redesigned dashboards to make them more useful and interactive
Enabled Rosendin to use the ad hoc DV capabilities of OAC to explore their business data and develop new analytic insights
Provided supervisors and managers access to weekly-level data to properly staff their projects
Redesigned Dashboard Examples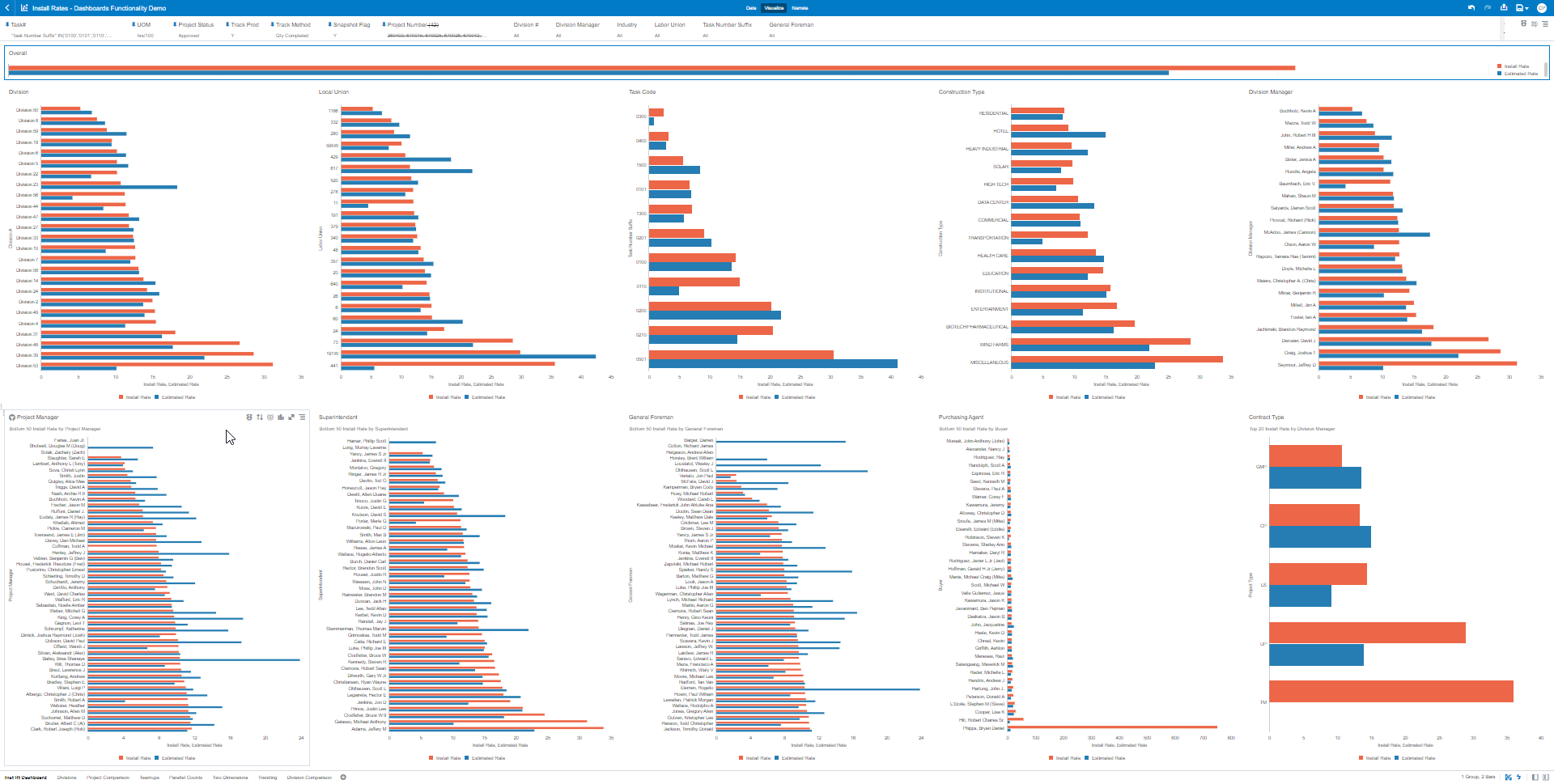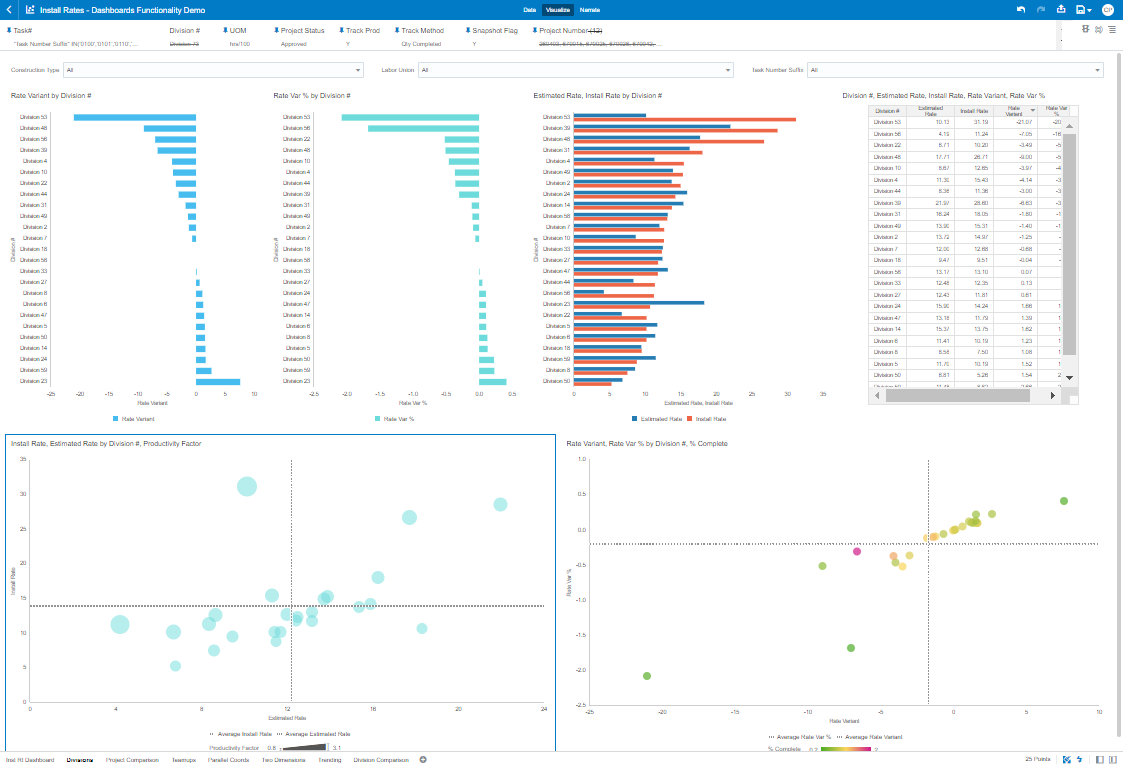 Technologies Used
Oracle Analytics Cloud (OAC)
Oracle Autonomous Data Warehouse (ADW)
Oracle Data Integrator (ODI)
Next Steps
Vlamis is now looking to improve performance of Rosendin's data warehouse making it easier to use for analysis and to redesign additional dashboards following our best practices. Rosendin is also evaluating how they can integrate OAC into more of their business processes and expand the use of analytics to more areas of their company.
For more case studies about Vlamis clients, see our Case Studies page.