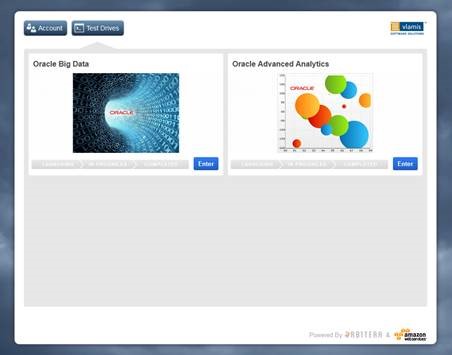 We at Vlamis Software Solutions, Inc. have been working hard to give you some updates to Vlamis' Oracle Test Drive program, and we wanted to let you briefly know about them.
As a reminder, our test drives run with the actual Oracle software running on the Amazon Web Services EC2 environment.  They give you hands-on experience with the software and a tour of the features. If, after registration, you need additional time or need further instructions, simply send an email to testdrive@vlamis.com and we would be glad to help you.
First, we are offering Oracle's new Big Data test drive, which is made up of five individual hands on labs that explore both Big Data and NoSQL Access to the Oracle Database.  The data used is from Oracle Big Data Lite's MoviePlex.  You can sample and see the inner workings of a movie streaming company.
Second, the Oracle Advanced Analytics test drive is now using Oracle R version 1.4 as well as SQL Developer 4.0. In addition, both the Advanced Analytics and Big Data test drives are using Amazon Web Services' new test drive launch platform, version 3.0. The new launch process is more user friendly. Once a test drive is launched, there is a video as well as written instruction that takes you through the start-up process, typically taking no longer than ten minutes.
Lastly, we are in the process of migrating our OBIEE and Map Viewer test drives to Amazon's new platform, and when they move, they will also be migrating to the newly released SampleApp 406.  These changes are rapidly approaching, so stay tuned!  In the meantime, you can still access both of test drives in their current version.
Thank you for allowing Vlamis to be your Oracle test drive resource!  We appreciate your support.