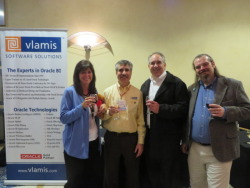 The Vlamis team at BIWA SummitLast week saw several of us in Redwood Shores, CA at Oracle's World Headquarters for the 2014 BIWA Summit.  BIWA (Business Intelligence Warehousing and Analytics) is the special interest group (SIG) of IOUG that focuses specifically on the analytic options to the database such as Oracle Advanced Analytics including Oracle Data Mining and Oracle R Enterprise, Oracle Spatial and Graph, and Oracle OLAP and also on the various business intelligence offerings from Oracle including OBIEE, Essbase, Endeca, and more.
Vlamis Software Solutions was *very* involved in the conference. Dan served as co-conference chair and hosted many of the general sessions, Cathye Pendley was also on the conference committee and did yeoman's work on several aspects of the conference including registration and the promotional email marketing campaign (Cathye was recognized by receiving the annual John Haydu Award for Outstanding Contribution to BIWA for all her contributions and effort), Jon Clark organized and managed the computing environment for all of the hands-on labs at BIWA, and I delivered several presentations and hands-on labs.
The keynote presentation from James Taylor (author of Smart (Enough) Systems) was a highlight of the conference. James focused on how decision support and evidence-based analysis formed the foundation of best practices among leading firms and organizations. A clear fan of business rules, predictive analytics, decision support systems, strongly encouraged everyone to "begin with the decision in mind" and to leverage the power of modern systems for operational decision making.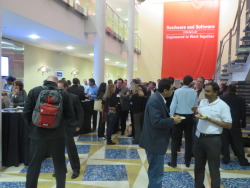 Social HourBalaji Yelamanchili, Senior Vice President of Oracle and the head of the Business Intelligence Product Development, kept everyone in their seats Wednesday evening (and away from the beer) by addressing the future of Oracle BI by showing off several new (yet to be released) versions of the product line in live demos (handled ably by Chris Lynskey). Lots of interesting new data visualization and interaction features are in the offing including BI Ask (a semantic search capability), BI Analyzer (new UI), and Mobile App Designer (already released, but lots of new capabilities). Suffice it say that Oracle is investing heavily in the future of its business intelligence line up.
Philippe Lions gave a fast-paced and engaging view of Sample App V309 and the integration of Oracle Advanced Analytics and in-data base analytics with OBIEE 11g. I followed the demo along on my laptop on our own instance so that I could soak up as much detail as I possibly could. SampleApp remains as a tremendous resource for technical tricks and methodologies for getting the maximum out of OBIEE.
Below is a list of the sessions in which we were involved. We feel very lucky to associated with such a tremendous event. Be sure to mark your calendars for the week of January 26, 2015 for next year's conference. Thanks to everyone for attending, contributing, participating, and making this year's conference such a success.
Vlamis's Sessions