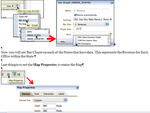 Have you been itching to try out Oracle Business Intelligence and BI Publisher, but have not gotten around to it? Yes, you can download the software and install it, but you need to wait for a long download and then run through a whole installation process. Once that's done, you have to find some instructions on how to start it up and what to click on. Wouldn't it be nice if you could just try some simple things using someone else's server that already has of Oracle BI or BI Publisher ready to go?
We have teamed up with Amazon Web Services and Oracle Corporation, so that Vlamis Software Solutions can now provide you this any day, and any time. Amazon Web Services already runs much of the Internet Web sites today. They have the capacity to scale as large or small as needed, and are able to launch thousands of servers at a moment's notice. As a result of this technology, we can bring you a full instance of Oracle software for you to evaluate and run in minutes, not days, weeks or even months.
To try this out, visit /testdrive-registration/. After filling out a short registration form, you will be directed to a web site with full instructions on how to start up your own private instance on the Amazon cloud and be given access to step-by-step instructions on completing a hands- on lab for Oracle BI or BI Publisher, as given at the Collaborate 2012 conference. We are now able to bring the hands-on lab environment to your desktop.
If you are interested in other Amazon test drives, visit http://aws.amazon.com/solutions/global-solution-providers/oracle/labs/. There you will find labs for areas such as Oracle Secure Backup to AWS, Peoplesoft Test Drive, Oracle E-Business Suite and others to come.
Once you have seen for yourself how easily Amazon can scale running Oracle software, you may want to consider running more of your Oracle software in the Amazon cloud.
Amazon Web Services offers a complete set of infrastructure and application services that enable you to run virtually everything in the cloud: from enterprise applications and big data projects to social games and mobile apps. For more information on Amazon AWS visit http://aws.amazon.com.